Past Grand Masters
Forms/News > Archives
These are the Past Grand Masters for the Grand Lodge of Maine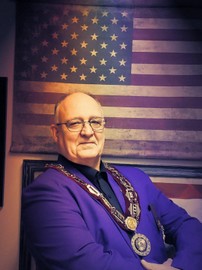 Ralph Trynor GM 2021-2022
Ralph was born in Portland, Maine on March 4th, 1951, the oldest of 6 children followed by four sisters and the youngest, a brother. He attended Schools in South Carolina, Connecticut and Maine including Pembrooke and Portland High School where he graduated in 1971.

After high school he joined the Navy under the "Buddy Program" with his best friend, Fred Stuart. However, the buddy program did not last, as Ralph was sent off to Electronics Technician school at Great Lakes Naval station, then sent to and classified as a Radar technician. Completing that in record time, Ralph was next off to Bainbridge Naval Training Center to go to school as a Nuclear Reactor Operator. Unfortunately, after completing the first 6-month section, life changes happened, and Ralph was transferred to Vallejo California where he went to crypto school to become a Crypto Repair Technician. His final resting spot in the Navy was Gulfport, Mississippi, giving him a central location to perform duties which included going to other bases to repair varying types of electronics and crypto equipment. Although rated as an ETR or Electronic Radar Technician, he only ever repaired radar on one ship that turned out to be a pretty simple fix...someone had dropped a screwdriver on the magnetron, shorting out the system.

After getting out of the Navy, Ralph moved back to Portland where he started Electronic Services as his first business. Through the years he has had many other businesses as well, such as a pizza shop/game room that featured a room setup with a large screen TV, free popcorn and soft drinks for the teens to hang out and have fun. On top of that, he also had a tropical fish pet store specializing in saltwater fish, a video shop that was the second shop in Maine that opened a mere two weeks after the first. He also had an online computer system that allowed people to chat and leave messages to each other before the internet was available to the public. This system was converted over to the internet when the public access was made as the first public access point in Maine for people to get on the internet. Additionally, there was a roofing and siding company with his wife called MR Siding, a play on Ralph and Michele's names. Still going today is The Computer Guy, a business that does many things like web design, web hosting, custom computer work, and even creating Roku channels (search IOOF on your Roku).

As for family life, Ralph has two stepsons with his wife Michele, as well as two grandkids (Kairi and Landon) along with a number of foster grandchildren in his life.

Getting closer to present day, Ralph joined Unity Lodge #3 where Fred Stuart was a member. He also became an Associate Member of Presumpscot becoming Noble Grand and joining the Grand Lodge of Maine. He has served as DDGM for District #1, was elected Grand Warden of the Grand Lodge of Maine, served on the Home Board, and ran the Conclave for Camp NEOFA (giving it one of the largest turnouts in recent times). On top of all that, Ralph is a member of Ivy Rebekah #5, Eastern Star Encampment #2 and Ridgley Canton #1. He is also an Associate Member of Unity Lodge #8 of the Quebec Jurisdiction, an associate member of Saccarappa in Westbrook and an Associate Member of Fraternity Lodge #6.